Tubito Events' project series are projects, concepted by Tuba Tunçak, which take place regularly.

#understandme
Transcultural, globalized and digital networking are forming the everyday-life of kids and adolescents. Just as migration and integration which are also very important and current phenomena. These points are covered by the philosophy of the #understandme-project: To understand and to be understood across language and borders, music and media.
#understandme is an event series, concepted by Tuba Tunçak, focusing on young people for facilitating them to express themselves through all these modes. In collaboration with schools and well-known instructors, a considerable variety of artistic workshops was created. Just like that, formats are generated, so for example the Music Media Workshop imparting professional media know-how through musical influences. Or the choir and (body)percussion workshop "Sing Your Songs! Drum Your Feelings!" animating the participants to express their feelings through the language of music. The Instrument Construction Workshop envisages playing music with self-constructed upcycling-instruments.
The #understandme-team organizes its program during school holidays and for the #understandme-festival week. Furthermore, workshops lasting all year are arranged at the cooperating schools and institutions. The colorful #understandme-closure festivity crowns the long-term work as a multicultural interactive event for the whole family.
The collaboration between diverse schools in Essen, Zukunft Bildungswerk, Zeche Carl, INIMB e.V., neubert-film and Tubito Events forms the base for the successful project. Thomas Kufen, mayor of Essen, owns the patronage – also for 2018. Music Council of North Rhine-Westphalia supports the project.
#understandme 2017 was a huge success! The next #understandme-closure festivity will take place at the 8th of July 2018.
#listentome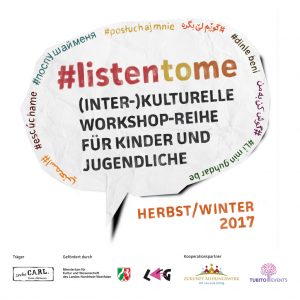 #listentome: "Listen to me!"
To listen to each other, to come together- that's the central point of the music-, arts and media courses, our team at Tubito Events has developed for our cooperation partners, the Zukunft Bildungswerk and the Zeche Carl. It addresses to children and youngsters and we are really proud of the diversity of our offers.
Thanks to the Landesarbeitsgemeinschaft Arbeit Bildung Kultur NRW e.V. (LAG) and the NRW ministry for Culture and Science!
MÜLLDRUM COMPANY – Musical. Sustainable. Creative.
A German-Turkish youth project – 13th-19th November 2017, Essen
Association: Zukunft Bildungswerk gUG (limited liability)- Concept & Project Management: Tuba Tunçak
"Creating something new out of the old- for a better common future!" This is the motto of the project series "Strengthening Bridges: Youth Exchange between Turkey and Germany" of the DEUTSCH-TÜRKISCHE JUGENDBRÜCKE. The project series is financed with funds from the Ministry of Foreign Affairs. We'd like to say thanks for this support! The renowned percussionist Engin Gürkey, and his pupils from Istanbul, will meet in Essen with the music class of Ria Griep (Frida-Levy-School) and our lecturer Ömer Bekta?. Together they will construct a Mülldrum (garbage drum) from recycled material and work out a stage project, to perform it together the 17th November in the Katakomben Theater.
Physics of music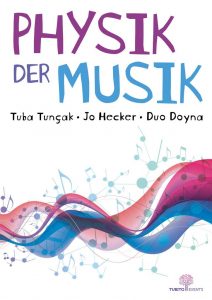 With the ears of a bat- "The science of producing sounds!"
What do our ears hear and how do they operate? Is it possible, that some sounds could not be heard? And can sounds be made visible? We will investigate these and many more questions in the common project of Tuba Tunçak and Jo Hecker.
In collaboration with the scientific entertainer Joachim Hecker and the renowned musicians duo Annette Maye and Martin Schulte, we will present an interactive, scientific musical show for small and big discoverers. Together, we will get smarter by means of science and live music.
It is a program to get amazed, to discover and to participate!
On December 9th, 2017, at 3 p.m., we can start with our experiments!
Healthy and Colorful

Gesund und Bunt ("Healthy and Colorful") has been realized in cooperation with Tuba Tunçak. It is a township project of Essen Karnap. For about one month, professional instructors organize musical workshops with self-made upcycling-instruments at collaborating schools and day-care centres in Essen.
Several schools and day-care centres, Zukunft Bildungswerk, Essen's youth welfare office, Flizmobil and Tubito Events cooperate to facilitate the project.
Given that the project in 2017 has been staged successfully, in 2018 it will continue.
Yakamoz
The word 'Yakamoz' is as unique as the event conception designed by Tuba Tunçak under the same name. When the moonshine is reflected at a water surface, it's called Yakamoz. The Turkish word with Greek origin doesn't have any counterpart in other languages and belongs to the 'world's most beautiful words'. When poetry, light and music operate in unison, it's called Yakamoz. Tuba Tunçak and Christoph Tiemann as artistic moderators lead through a magic evening, which is also co-created by the audience. Together and in two languages the shady and sunny sides of Turkish poetry will be discovered. The Turkish German Jazz duo FisFüz accompanies this magic atmosphere.
Yakamoz demonstrates how self-evident integration and cultural exchange between several cultures can happen. The program guarantees a lot of surprises – also emotionally. Crying and laughing together! Hüzün, kahkaha ve heyecan dolu bir program!
Yakamoz is an event series of Tubito Events that takes place regularly for several years.