Drummer duo BeatBop and Samir Mansour

Jonas Völker and Timo Gerstner are the award-winning drummer duo BeatBop.
Samir Mansour is instructor at the Popakademie Mannheim and a highly demanded artist, acting in many stage and studio productions. Since July 2016, the professional musicians are part of the #understandme-tutor team. During the #understandme-festival week 2017, they organized several workshops and performances.
Duo Doyna: Annette Maye & Martin Schulte
Duo Doyna combines different melodious worlds: wedding and dance music from Eastern European countries, sephardic mediterranean sounds, their own compositions and improvisation. At the same time, Duo Doyna is only one of several award-winning group and solo projects of the international recommended clarinet artist Annette Maye and the highly demanded jazz guitar player Martin Schulte. Tuba Tunçak cooperates with Duo Doyna within her music science project Physik der Musik (physics of music). Next event takes place the 9th of December at Kulturbunker in Cologne.
Jo Hecker
Joachim Hecker acts and creates in different ways. As author of science, reporter and editor, he publishes his own works and performs within interactive shows for children and the whole family, among others in cooperation with the Goethe Institut (a German science establishment). The music science project Physik der Musik (physics of music) was created by Jo Hecker and Tuba Tunçak. It is a show presenting science and live-music and guaranteeing amazement, discovery and interactivity. Next event takes place the 9th of December at Kulturbunker in Cologne.
Ahmet & Ömer Bektaş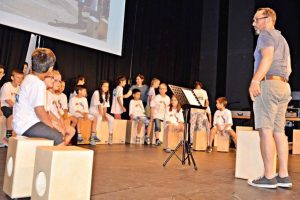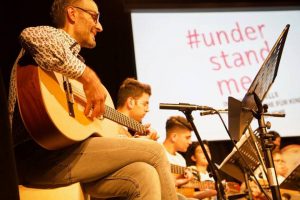 The two brothers Ahmet and Ömer Bektaş are music instructors working together with Zukunft Bildungswerk. They act regularly in schools and holiday schools in Essen.
Ahmet Bektaş leads several guitar workshops and chorus groups and Ömer Bektaş is responsible for few percussion projects.
Tubito Events cooperates with the two renowned artists within the coordination of cultural education offers of Zukunft Bildungswerk as the township project Gesund und Bunt (Healthy and Colorful). Furthermore, the two artists are members of the #understandme-team.
FisFüz
FisFüz are the clarinet artist Annette Maye, Oud player and guitarist Gürkan Balkan and percussionist Murat Coşkun. Tuba Tunçak and the members of the price-winning oriental jazz ensemble cooperated already in many different projects, among others at the children concert Kelebek which won the German Radio Price, at the 10th anniversary of the international frame drum festival Tamburi Mundi or at the Multiphonics Festival 2015. Tuba Tunçak and FisFüz act together for Yakamoz, an interactive music show with a self-elaborated special program. Also the cabaret artist Christoph Tiemann performs as moderator in the Yakamoz team.
Majid Karami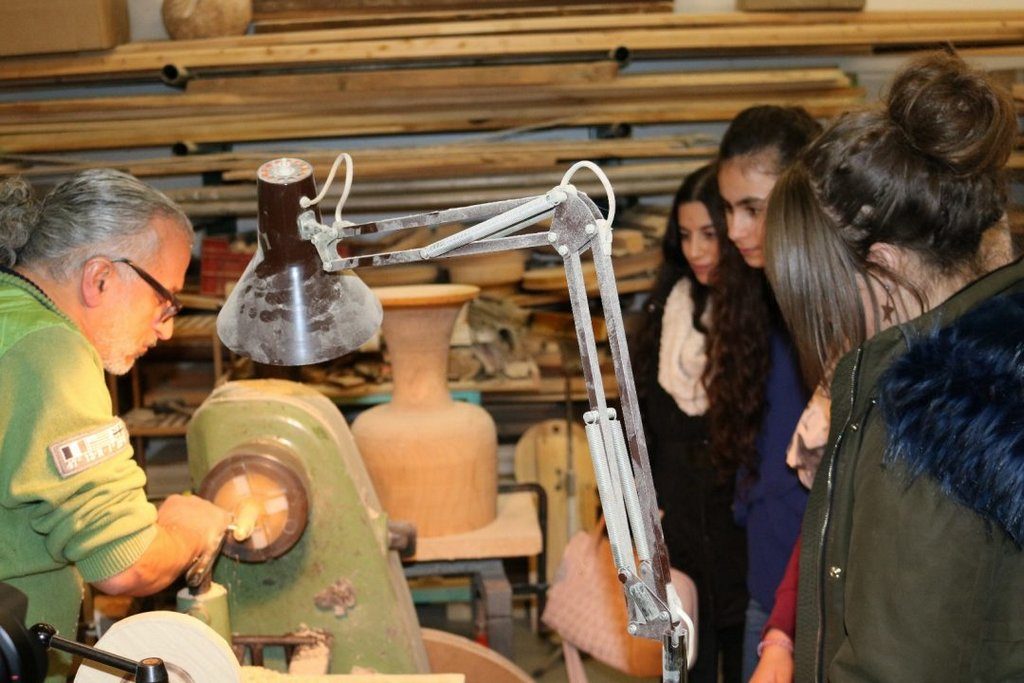 Majid Karami's extraordinary job is to construct instruments and to create instrument innovations. He fills expositions with his instruments and he is also lecturer about his craftwork art. Thus, he participates at Essen's township-project Gesund und Bunt (Healthy and Colorful) and at the #understandme-festival week. For both projects, he leaded instrument construction workshops with recycled material.
La-le-Luna-Family Band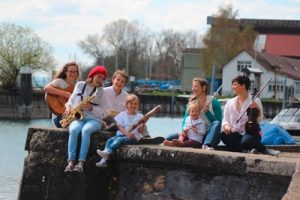 Two families with six children and four adults invite their international audience at every concert they play to participate and interact. From families for families. Tubito Events organized divers projects and accomplished PR tasks for the family band from 2015 to 2016.
Estrada Fado Group & Dilek Türkan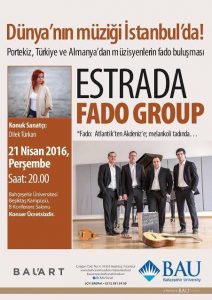 The musical recognition feature of Estrada Fado Group is the combination of Turkish Saz with piano, drum and guitar. Performances in Neuss and Cologne were furthermore completed by the considerable Turkish singer Dilek Türkan. Tuba Tunçak did not only organize and manage concerts in Neuss, Düsseldorf and Cologne. She also did contribute as songwriter for the Estrada Fado Group.
Tubito Events cooperated with Dilek Türkan for the project "Fado is worldmusic". Tuba Tunçak edited for Türkan texts for two Turkish Fados. Dilek Türkan performed as guest soloist of the Estrada Fado Group in Neuss in the Landestheater and in Istanbul invited by BauART. These two concerts were co-organized by Tuba Tunçak.
Öykü & Şeref Dalyanoğlu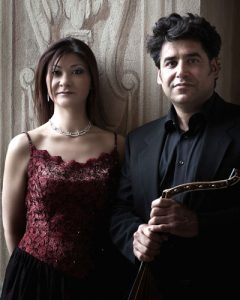 Öykü & Şeref Dalyanoğlu combine Orient and Occident with their sound. Opera singer Öykü Dalyanoglu floats with her voice between the worlds. She sings not only western opera songs, but also multilingual Tangos and Turkish folk and art music. Şeref Dalyanoğlu is Saz, Oud and Tanbur virtuoso and through his music, he acts as an intercultural bridge builder. Tuba Tunçak cooperates with the two artists at their intercultural project "Mother tongue Love".
Muammer Ketencoğlu & Balkan Yolculuğu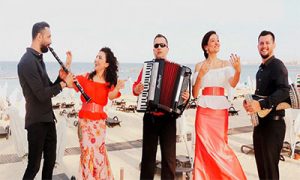 Muammer Ketencoğlu is an accordion player. He invites his audience to a trip from Southeastern Europe to Azerbaijan and Armenia.
The cooperation between Muammer Ketencoğlu and Tuba Tunçak began 2007 with the WDR radio project Rembetiko.