Concert series
#Hypersuites
Philharmonics Berlin, 2015
As a tour manager and PR consultant Tuba Tunçak accompanied the concert series amongst others at the philharmonics of Berlin with Marina Baranova, David Krakauer, Murat Coşkun, Damian Marhulets, Dima Tsypkin and Alon Sariel. The pianist and improvisation artist links her beloved baroque music on stage the way hyperlinks in the Internet do. The #Hypersuites-Tour was organized in cooperation with Damian Marhulets.
Concert
Firebird
Katakomben theater Essen, 2015
Tuba Tunçak organized the concert with Marina Baranova, Murat Coşkun and the guest pianist Elena Kolesnitschenko. With their program Firebird, the two demanded and very expressive musicians Baranova and Coşkun presented their project: "Piano meets World Percussion".
Gala
Yeşilçam Gala
Collosseum theater, Essen, 2015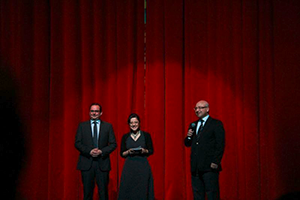 Moderation and editorial cooperation at the gala of the INIMB e.V. (Centre for Intercultural Music and Stage Arts) within the Turkish film festival were Tuba Tunçak's tasks. With prominent guests like, amongst others, the Mayor of Essen Thomas Kufen and the Turkish consul general Mustafa Kemal Basa.
Event
Orient meets Occident
WDR, 2011 – 2014
Likewise, Tuba Tunçak organized and moderated between 2011- 2014 various events like for example "Orient trifft Okzident" ("Orient meets Occident"), "Kelebek im Konzert" ("Kelebek in concert"), "Die Gala von Köln Radyosu zum 50. Jubiläum" ("the gala to the 50th jubilee of Köln Radyosu") and "Die Melodie des Bosporus" ("the melody of the Bosporus") within her work as an editor at the WDR.